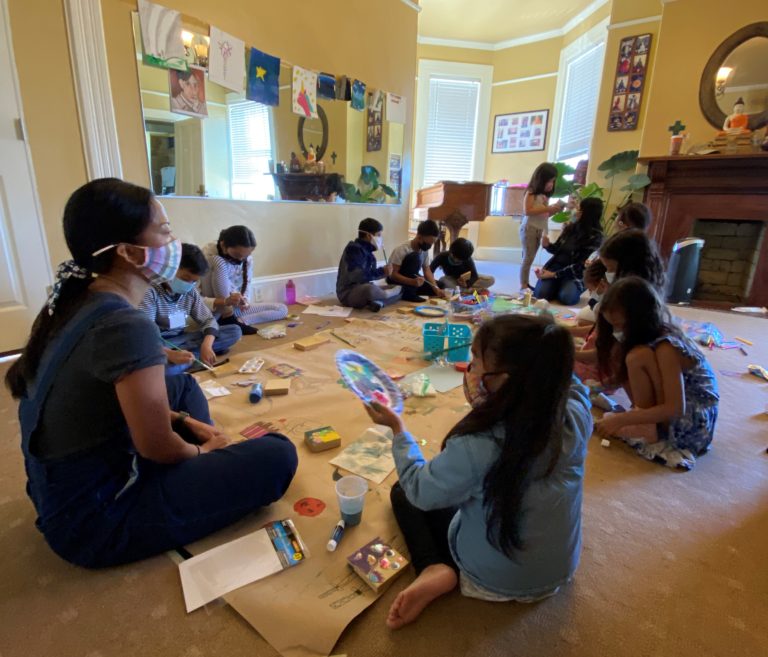 The Center for Empowering Refugees And Immigrants (CERI) calls an old yellow Victorian building home. On this summer day, the building smells like shaving cream, tacos and non-toxic paint. Its rooms are filled with drying paintings, clay sculptures baking in the sun, and the sound of kids laughing. Polina Marso, ARTogether Project Coordinator and Art Teacher, stands in front of the morning camp session – for kids ages 6-10. She asks: "Are you ready for the final day of the camp?"
This causes a ruckus amongst the cohort. "NOOOOO!" Youseof replies, extending his disapproval of the end with a long, drawn out Ooooooo.
Later, during the afternoon session of art camp – for kids 11-16 – Mariam asks: "Can we go for 100 days camp, please?" The kids want to stay, and they're not shy about sharing their feelings.
For a whole week prior, they have been part of two summer art camps that took place at CERI in Eastlake Oakland. ARTogether teamed up with CERI for the fourth year in a row to bring a free art camp to children from refugee and immigrant communities in East Bay. This year, with the help of our board member, Goli Hashemi MSc, OTR/L we also collaborated with the Department of Occupational Therapy at Samuel Merritt University and two doctoral students Hana Abudl Rahim and Danielle Valdespino.
This amazing team, led by our artist resident Polina Marso, organized arts and crafts activities – like drawing and painting and clay work. They also held sessions that enabled the campers to engage with their senses and somatic experiencing – like sensory boards (where they collected tactile objects in a collage) and homemade stress balls out of water beads and balloons. Each day began with a grounding meditation, and all activities were planned to encourage the campers to be creative and to follow their instincts as they made art. Without explicitly saying so, the teachers held space for the kids to explore and expand upon their intuition.
The students really enjoyed the sensory aspects of the projects. Art Camper Sara even went to grab her stress ball to hold while doing other activities. SLIME, of course, was also a big hit! Using glue, shaving cream, saline solution, and baking soda, each child mixed their own batch of "slime" in a bowl, adding paint to color it as they wanted. "Isn't that cool?" Omar said while intently mixing his slime: "It's wet and not wet at the same time."
After being forced outside last summer by COVID-19, getting to hold camp indoors felt like a hopeful step toward normalcy; which in turn felt like a step toward our abilities to engage with our communities in a direct way.
ARTogether believes that our Art Camp is essential to rebuilding the engagement and interaction that children have been lacking during COVID-19. Summer camps may seem like an obvious step forward for those with access to such services. However, many traditional summer art camps are usually limited to children whose parents can afford the cost of full day programs. We hope ARTogether can continue to provide our free art camps for refugee and immigrant families for years to come.
Many parents were glad for the program and inquired if there were opportunities for them as adults to be able to make art, too! Prem Pariyar, a parent with two campers aged 7 and 9 told us: "They usually get up late. But to attend this Camp, without our help, they got up early and prepared themselves for the Camp." Wow! We take that as a sign of success!