Arise! For Women, Life, Freedom
Women, Life, Freedom Murals
Between Mission Street and Valencia Street, in the middle of a long line of beautiful murals, a woman waits for you. With her arms lifted above her head, she holds her ponytail in one hand and a pair of scissors in the other. An Iranian flag is painted behind her but she is the focus. She looks down at the earth, her expression shaped by determination as she slices the sharp blades through her hair. Above her are the words, "Women, Life, Freedom." This is the name of ARTogether's new mural series, a symbol of solidarity with the women of Iran following the protests that erupted after the tragic death of Iranian-Kurdish woman, Mahsa "Jina" Amini.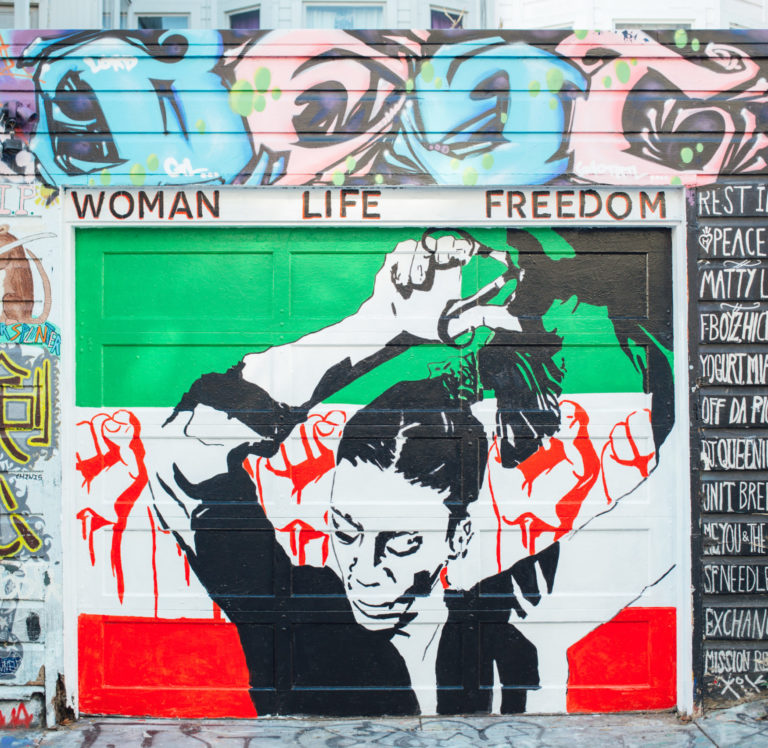 The "Women, Life, Freedom" Murals Project began in early October. As protests in Iran developed, ARTogether's Executive Director, Leva Zand, united with Iranian artists Farnaz Zabetian and Mojgan Saberi. Together, they discussed the possibility of putting up a series of murals across the Bay Area. Leva shared with me, "There were two main purposes from the start: to raise awareness about what was going on in Iran, to American audiences and passersby, and to show solidarity to Iranians inside Iran, to tell them they are not alone in their fight for freedom." 
ARTogether was able to secure three walls for this mural project: in Albany, San Francisco, and Oakland. So far, they have completed the murals in Albany and San Francisco, and are currently fundraising for the third and largest mural in Oakland. 
I had the honor of attending the unveiling of ARTogether's second
mural located in the famous Clarion Alley of San Francisco. Situated in the Mission District and maintained by the Clarion Alley Mural Project (CAMP), Clarion Alley is a famous community space that displays public art aligned with social and political justice messaging. I spoke with Megan Wilson, CAMP's Co-Director, about the significance of ARTogether's new mural in particular. She responded, "It's about supporting and bringing the community together to share grief, outrage, and love. Murals live on and tell stories, and today we are celebrating these stories and our international solidarity." 
The public event was entitled, "The Wind in My Hair", and the reception included breath-taking performances by artists Mobina Nouri, Nima Sepehr, Mohammad Talani, and We Become Us, as well as a poetry reading from the book, Song of a Captive Bird, by Jasmin Darznik.
When I arrived, Florencia Montefalcone had her long hair tied to cords of white rope. At the end of each cord, the rope was fastened to a stone that dragged behind her as she walked. I stopped to watch her bend down and embrace a dog, holding it close to her chest despite the heavy weight that clung to her body. The moment felt like a beautiful metaphor for Wilson's words; it was clear people had gathered here to share their grief and love for one another.
Mobina Nouri wore a red dress with dozens of little silver scissors sewn into the fabric. For her performance, she used the scissors to cut off locks of her hair and tie them to a gate behind the performance area. Afterwards, she shared with me, "It was very emotional. I had my eyes closed but I could feel people crying. By being together we were healing." She continued, "You know, none of us can sleep, we're distracted at work. This limbo state of mind is tiring, and the Western media is not covering it."
The event ended with an interactive discussion facilitated by Badri Valian, a contemporary performance artist, painter, and artist in San Francisco. After sharing her own experiences growing up in Iran, she opened up the discussion portion by asking the crowd, "Have you ever been displaced? Do you know what that feels like?" 
She paused, before approaching the microphone again, "I can show you what it feels like to live under a dictator. I am your dictator now, and I am commanding you to give me your socks."
A murmuring wave of confusion washed over everyone, quickly followed by expressions of shock and disbelief.
"I am telling you, if you want to know what it feels like to be displaced then give up your socks," she asserted once more. Soon, socks began sailing through the air, patterned tails trailing behind them. Newly naked feet touched the concrete floor, shaking in the cold breeze before slipping back into their respective shoes. Valian then encouraged the participants to come up to the mic and share how they felt. One by one, sockless people lined up before the mic. A few expressed their condolences while others shared their own stories. One individual pulled her folded socks out of her coat pocket and explained, "I'm sorry, I can take off my socks but I can't give them up. My husband calls it my refugee syndrome. I feel it every time I try to leave my house. I can't help but think to myself: do I have everything I need? When will I be back?"
I spoke with Valian after the event and asked her about the significance of that day. She shared with me, "The turnout today was so diverse, I am proud and honored to be a part of a united community. I see how many of them are involved and that they get it… the human is united!" 
I then asked her: how is art important for the revolution happening in Iran right now? Valian shared, "Art is expressing what we feel. It is anticipating the future, how we reach victory and genuine connection. Art is everything!"
Similarly, Leva wrote to me, "It is important for Iranians inside Iran, who are fighting in front of bullets every day, to know people around the world care about them. That they are not alone and that the world is ready for Iran to be free from four decades of prison, torture, murder, and other forms of oppressions. Art matters because it can convey those messages beyond languages."
For more information on the "Women, Life, Freedom" Murals Project, visit the "Women, Life, Freedom" Murals page. Please consider donating to ARTogether to help us complete our third and final mural right here in Oakland, by clicking here.
Emma Grover is a freelance writer from New York City who recently moved to the Bay Area after completing her degree in English and Creative Writing at Wesleyan University. She is passionate about the healing powers of written and artistic expression as well as highlighting the voices of underrepresented and diasporic writers like herself. She has a background in non-profit work and education.