Khamsa: The 5 Stages of Grief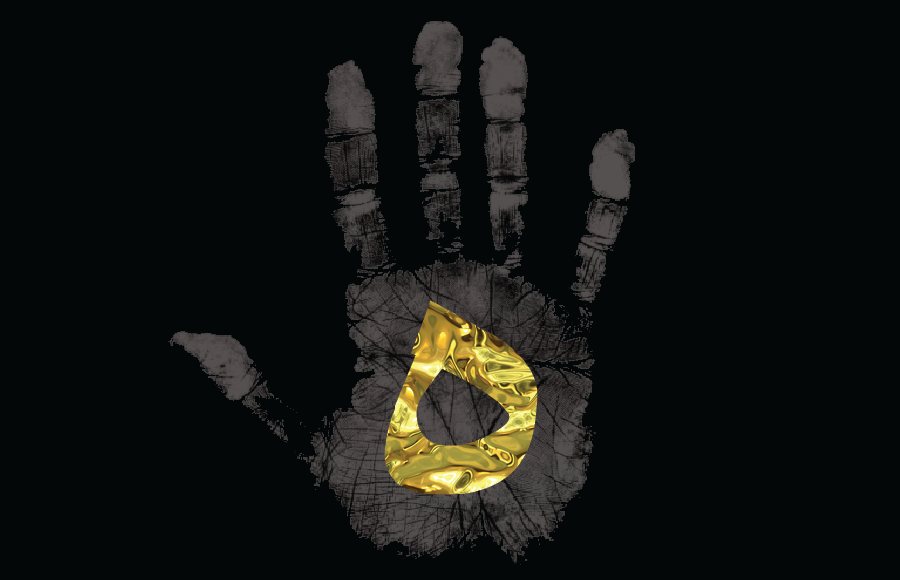 Khamsa is a visual and musical journey through the five stages of grief, encouraging the audience to explore different aspects of trauma's universality.
A collaborative creation led by Muslim artist, community organizer and activist Guled Muse in partnership with ARTogether and Gathering All Muslim Artists (GAMA), Khamsa will be a multimedia installation addressing the different stages of the grieving process: denial, anger, bargaining, depression and acceptance. Collaborating artists include musicians and visual artists of color from across the United States. 
Drawing from the Arabic word for "5," Khamsa will strive to find the harmony in humanity's shared stories, and bridge differences of culture, belief and history. Our vision is to spark new narratives around grief and trauma, using varied media and disciplines to present new perspectives on mental health.
The Khamsa exhibition is scheduled to run from September 2 – October 15, 2022 at Aggregate Space Gallery in Oakland.
The opening reception will be held on Friday, September 2, 2022 from 6-9 pm, and the first Friday performance will be held on October 7, 2022. 
The following artist talk will be held Saturday, October 8, 2022 from 11am to 12:30pm and the Mental Health Talk and Podcast will be held Saturday or Sunday, September 24 or 25.  The closing reception will be October 15, 2022 from 6-9pm.
Guled Muse // Khamsa Lead Artist
Guled Muse is a music producer and community organizer. His work includes community leadership in the Mission District of San Francisco and in Oakland, which includes movements around issues such as gentrification, promotion of the arts and diversity. He has founded and coordinated events including 'Skate with Beats' and 'Not 4 Sale', which highlighted the essence of Bay Area energy by promoting female, Latina DJs. Originally from Somalia, Guled moved to the US at the age of ten, and has lived in the Bay Area for over 20 years.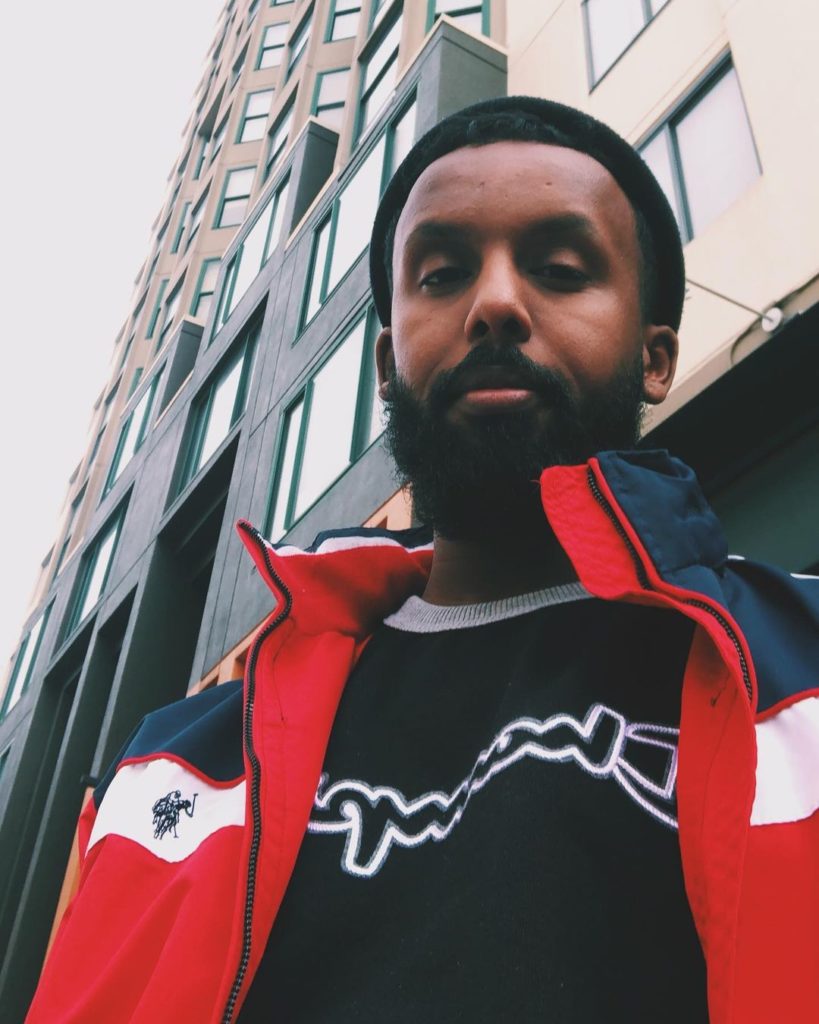 Abbas Mohamed // Khamsa Art Director and Producer
Abbas Mohamed is poet, cultural producer, and the Executive Director of GAMA: Gathering All Muslim Artists, an organization he co-founded in 2016 to support and empower artists in the global Muslim community. Through GAMA, he has overseen close to 100 art-centered community events in the Bay Area, New York, and Detroit, as well as leading an artist retreat in Hawaii for 10 GAMA artists. He is also the creative director of Halalfest, Inc, co-hosts The Artistic Foodies podcast and has recently seen his work published in "A Kaleidoscope of Stories", an anthology of Muslim Poets in the English language.
Khamsa Collaborating Artists
Zara // Collaborating Artist
Zara is a visual artist based in the San Francisco Bay Area. Her work is inspired by the sublime beauty of the clouds, flowers and the colors seen in sunsets; nature is her muse.
Zara specializes in layered mixed media and multimedia art, she likes to press her own flowers and use textures in her paintings. She is passionate about creating art that makes the viewer feel something. Art is subjective and that is why she prefers making abstract or semi abstract pieces, as it leaves more room for interpretation and feeling.
Zara's media include acrylics, gold leaf, henna, digital art,  photography, some calligraphy and fashion design.
Follow Zara on Instagram at @whereiszara.
pAS dOO // Collaborating Artist
Pat Mesiti-Miller aka pAS dOO is an Artist and Audio Producer based in the Bay Area. From Music Recordings to Podcasts, Pat's work is illuminated with intricate sound design to create expansive audio landscapes. He uses audio as a form of expression, as well as a tool for healing, empathy, and empowerment.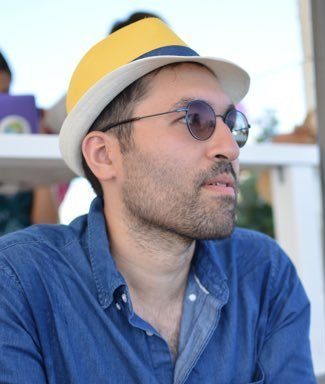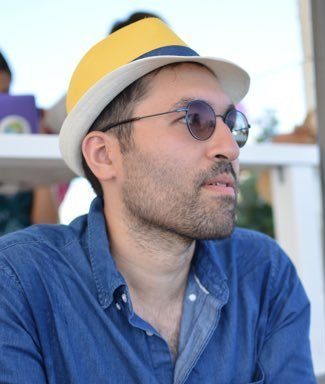 Fahd Butt // Collaborating Artist
Fahd learned art as a toddler from his mother, playing with crayons and colour pencils, before exploring this interest further during his school years. Based out of the SF East Bay, having lived previously in Canada, Pakistan, and Kuwait, he creates art in various mediums such as pencil and ink sketches, acrylics and oil paints, and digital mediums. He explores themes around music, spirituality, futurism, and simple everyday moments - ranging from realism to the abstract. Follow his art on Instagram at @byfahdoo.
Sydequest // Collaborating Artist
Sydequest hails from Vallejo, California. They started producing in 2020 and released five instrumental albums. Sydequest is currently working on multiple projects this year. One project in particular is going to be called The Mystery Tape which will consist of multiple underground emcees. Sydequest's style of production is mainly sample based.
Bryan C. Simmons // Collaborating Artist
Bryan C. Simmons is a talented and dynamic artist with an undying passion and good ear for music.Born in Vallejo, California - a culturally rich community of music and musicians, Bryan is deeply influenced by all genres of music, but his love for Jazz and Hip Hop outshines it all. For over ten years now, Bryan has made a name for himself as an accomplished professional keyboardist in demand. He is known for the passionate manner in which he fleshes out his flawless musical arrangements that creates memorable, heartfelt rhythms. The reason music-passionate people find him to be original. One of the major highlights of his career includes being on a world tour with three-time Grammy Award-winning artist Fantastic Negrito in 2018 and 2019, playing at several sold-out festivals at both national & international levels.

Sukina Noor // Collaborating Artist
Sukina Noor (formerly Sukina Pilgrim) is a poet, spoken-word artist, playwright, workshop facilitator and educator, artistic curator, writer and public speaker.
She has toured extensively across the UK, Europe, America and Africa performing, delivering poetry workshops, partaking in panel discussions and delivering lectures. Sukina has facilitated creative writing workshops across the world empowering communities to use the written word as a tool for dialogue and as a means for accessing their authentic voice. Her workshops seek to explore the intersection between creativity and spirituality and the awakening of the voice of the heart. She has developed a series of poetry writing courses such as The Art of Speaking from the Heart, The Art of Writing Sacred Poetry and The Poetry of Female Mystics, which she has delivered to international audiences.
She has played an intrinsic role within the British Muslim creative communities as a performer and events organizer and has curated many platforms for many national and international Muslim artists to express themselves and launch their careers.
She was the co-founder of Poetic Pilgrimage, a female spoken word and hip hop duo. Her work has been featured on the BBC News, World Service and Asian Network, ITV, Channel 4 and Al Jazeera and has been written about in the Huffington Post, Daily Mail, The Voice and many other international media outlets. Sukina holds a BA (Hons) Degree in English Literature and Caribbean Studies and is currently pursuing an MSc in Creative Writing for Therapeutic Purposes where she is focusing on the healing potential in Sufi poetry.
Sukina has amassed a loyal fan base due to her international performances, workshop facilitation and social media presence and upcoming poetry book and spoken word album is highly anticipated.

aboveclouds // Collaborating Artist
aboveclouds: a moniker backed by the philosophy "live free, fly high." A Virginia native, aboveclouds applies this logic to his approach in life and music. His first introduction to Hip Hop came when The Source magazine featured an ad that offered 12 CDs for the price of one, and he delved into a wide variety of artists and exploration of sound. Prolific acts like A Tribe Called Quest, Gang Starr, Nas, Mobb Deep, Big Pun, and Wu-Tang Clan led to a passion for Hip Hop and influenced the twist he would apply to his own beat making and production. A student of the game, aboveclouds gradually developed his style featuring slick sampling, gritty drums, and a boom-bap aesthetic into a musical landscape sought by up-and-coming artists.

Gavin Grant // Collaborating Artist
Gavin was born in London, raised in Los Angeles, and now resides in Oakland California. With influences from his Uncle who was a DJ and at one point was signed to Jive Records, Gavin got his first introduction to music at around age 15 in 1992. First experimenting with music on a Casio Keyboard, he began to develop his own style of beat making alongside rapping and then later discovered his love for singing and composing in general.
In recent years Gavin has been spearheading Featherload; which is a band of the Mind. That came from a dream, that influences him to create experimental genre-bending music drawing from Hip-hop, jazz, classical, funk, and cinematic scores. 
Nabi Haider Ali // Collaborating Artist
Nabi Haider Ali is a Tamil Shi'a Muslim artist based in California. He is a children's book illustrator and full-time character designer. In his free time, he creates illustrations and handicrafts focused on Shi'i iconography and considers this practice to be a hands-on meditation for him.
Gazelle Samizay // Collaborating Artist
­Born in Kabul, Afghanistan and raised in rural Washington state, Gazelle Samizay's work often reflects the complexities and contradictions of culture, nationality and gender through the lens of her bicultural identity. Her work in photography, video and mixed media has been exhibited across the US and internationally, including at Whitechapel Gallery, London; Los Angeles Municipal Art Gallery; the California Museum of Photography, Riverside; the de Young Museum, San Francisco; the Asian Art Museum, San Francisco, and the Slamdance Film Festival, Park City, UT. Her pieces are part of the permanent collections of the Los Angeles County Museum of Art; the Center for Photography at Woodstock, NY; and En Foco, NY. In addition to her studio practice, her writing has been published in One Story, Thirty Stories: An Anthology of Contemporary Afghan American Literature and she is a founding member of the Afghan American Artists and Writers Association. Samizay has received numerous awards and residencies, including from the Princess Grace Foundation, NY; Craft Contemporary, Los Angeles; the Arizona Community Foundation, Phoenix; Level Ground, Los Angeles, the Torrance Art Museum, Los Angeles; the Foundation for Contemporary Arts, NY; and the San Francisco Arts Commission. She has been featured in the Los Angeles Times, NPR, Hyperallergic, LA Weekly, Seattle Post-Intelligencer, and Contemporary Practices. She received her MFA in photography at the University of Arizona and currently lives in San Francisco.
Nu Nasa // Collaborating Artist
Nu is a prophet of poetry who cannot be contained by the limiting factors of genre or doctrine. As a hip hop artist, he is a refreshing emcee whose skin color, religion and locale is irrelevant to his identity. He is simply Nu, an entity; a vessel expressing sentiments of love, acceptance and perseverance. As an emcee, he balances thought-provoking lyrics with a soulful tone. Nu displays the wisdom of an old soul with a child-like wonder, bringing a calming excitement whether on stage or in the studio.
Keyvan Shovir // Collaborating Artist
Keyvan Shovir  is an Iranian-American multidisciplinary artist and muralist born in Iran and currently based in the bay area. He is one of the pioneers of Iranian street art in Tehran, focusing and addressing social issues and political messages through Persian calligraphy and poetry.
 He creates sculptural sound installations, murals, and paintings, to explore the poetic experience of the current political situation within narration and storytelling from the past and its juxtaposition with the present. All the narrations are rooted in his Iranian heritage through literature, history and Persian myth, language, and today's pop culture.
Shovir received his BA in Painting from Azad Tabriz University of Tabriz, Iran, and his MFA from California College of the Arts in San Francisco. He has received many awards including, Art of Peace from Robby Poblete Foundation, Creative Activism Awards of Culture of Resistance, Rite Editions Gift in Memory of Seven Leiber Scholarship, and Murphy & Cadogan Art Award.
He has exhibited nationally and internationally at venues including Seyhoun Gallery in Tehran, Crewest Gallery in Los Angeles, i.d.e.a. Museum of Mesa, Arizona, SOMArts Cultural Center, and Minnesota Street Project in San Francisco, Graffik Gallery in London. His works featured in various publications such as; LA Times, Arte Channel of France, HuffPost, Freitag.
D. Lee // Collaborating Artist
A Deep East Oakland Native.
Romina Zabihian // Collaborating Artist
Romina Zabihian was born in Kashan, Iran, and immigrated to Berkeley, California, in 2015. She is passionate about human rights and expressing social values and issues through art. For as long as she can remember, art has been her passion. Unfortunately, in her native country, Iran, Baha'i minorities are denied access to higher education. As a Baha'i, her only other option was BIHE, an institution specifically designed to give believers of the Baha'i faith a chance at higher education. Unfortunately, the art major was not offered at BIHE. She chose psychology, trying earnestly to guide it towards an intersection with art; the result was Art Therapy, on which she presented her dissertation.
Along the way, she pursued her passion for art through natural curiosity and using skills gained from five years of training by Karim Nasr and Ruyin Pakbaz in painting and art history. She strove to apply her artistic talents to make a living, continue her work as a graphic designer, and in 2012 became a member of the Iranian Graphic Designers Society (IGDS). In 2019 she graduated from the Academy of Art University with a MA in Graphic Design & Digital Media.
Her background in psychology offers her a deeper understanding of the consequences of injustice on people's lives. It has become a fundamental part of how she chooses her art and designs projects.
Amir the Photographer// Collaborating Artist
Amir Abdul-Shakur also known as "Amir The Photographer" is an Oakland-based photographer focusing on Black joy, street photography, and portraiture. Amir began his photography journey in February 2018 at a local parade in Oakland. Since the parade, Amir has focused on capturing the essence of black life and the beauty of humanity both domestically and internationally. Amir's work has been featured on MTV, When We Vote, Good Morning America, Die Zeit (Germany), UCSF Benioff Children's Hospital of Oakland, and 7x7 magazine.

Spote Breeze // Collaborating Artist
Born and raised in Oakland California, Spote is an ever-evolving artist who finds his most fulfillment/self gratification through songwriting and rapping. His artistic interest/roots stem from reading and writing poetry in his childhood years. He obsesses over finding new ways to communicate and express messages, images, and emotions through the confinements, rules, and structure of rhyme/song, At times, he will disregard structure altogether.
His first full length effort, "Not Aloud" provides a quick glimpse into the seemingly sporadic nature of his creativity and scope on where his heart truly lies in terms of what frequencies he wants to emit into the world through his art. Although widely known for its overall danger, violence, poverty, prostitution, and drug activity, East Oakland exposed Spote to a wide array of experiences that equipped him with a vast collection of lenses/perspectives to see through. His father (who unfortunately passed in 2008) was a popular and beloved parks & rec center director in the inner city. His mother is a respected activist and therapist/counselor in the inner city. Spote's parents separated when he was 3 years old, ultimately bouncing him back and forth from East Oakland, North Oakland, and West Oakland households and environments. Spote tries to balance and make sense of his unique upbringing the best he can through his voice and writing, ultimately in hopes of making people feel seen and accompanied in the world, while also introducing new worlds/terrain to the unfamiliar.

Cheflee // Collaborating Artist
Oakland multi-instrumentalist beat maker and songwriter, Cheflee creates intricate stories with song, soundscapes, and textures. His unique and warm voice guides the listener through subject matter that asks deep questions, while his dreamy songs and melodic rhythms oscillate the ear follicles just right. An avid music listener and record store curator, his vast knowledge and love of expansive and experimental music comes through in his compositions. It is a performance not to be missed.
Mani Draper // Collaborating Artist
Armani is cut from the same cloth that made Richmond, CA home to some of the most influential hip hop artists of our time. It's Mani's writing that sets him apart and his producing for others that elevates him. Mani joined forces with dynamic Bay Area musicians, singers, producers and influencers to form "Brave Area," a collective that explores traditional sampling and live instrumentation alongside the technological. It is a sound that's new and familiar at the same time. This ultimately landed Mani alongside some of the region's most dynamic artists to form an art collective and creative agency that is known as Grand Nationxl.
Shaghayegh Cyrous // Collaborating Artist
Shaghayegh Cyrous
is an Iranian American multidisciplinary artist based in San Francisco and Los Angeles. Her works have dealt with cross-culture communication, connection, and the compression of time and space caused by political and cultural dynamics. Cyrous earned an M.F.A. in social practice at California College of the Arts and studied visual arts in science and culture at the University of Tehran. She is the founder of the Zamin Project, which aims to connect the Southwest Asian / North African arts community in the Bay Area and beyond. Cyrous has exhibited and performed internationally at venues such as Tehran MOCA, British Museum in London, Anchorage Museum in Alaska, Asian Art Museum, and Salesforce tower in San Francisco.